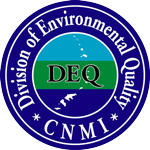 Hafa Adai and Tirow! Welcome to the

Division of Environmental Quality - Bureau of Environmental and Coastal Quality website.
Open/Illegal Dumping Report Form
Open dumps are illegal and are susceptible to burning when exposed to elements, vectors or scavengers. Open dumps on private or public lands may result in the issuance of an Administrative Order and may be assessed a civil penalty of a maximum of $25,000 per violation.
Illegal dumping is disposal of large amounts of waste in an unpermitted area.
Reporting illegal dumping can also be done by contacting:
DEQ on weekdays at 664-8500/8501
EMO on nights and weekends at 322-8002
Report an Open/Illegal Dumping